To create pricing plans using this AppTheme, please first review the 'Payment Settings' documentation. This documentation will help you configure all payment related settings that will allow you to start monetizing your website.
Vantage pricing plans give you plenty of ways to generate income which will be outlined in this documentation.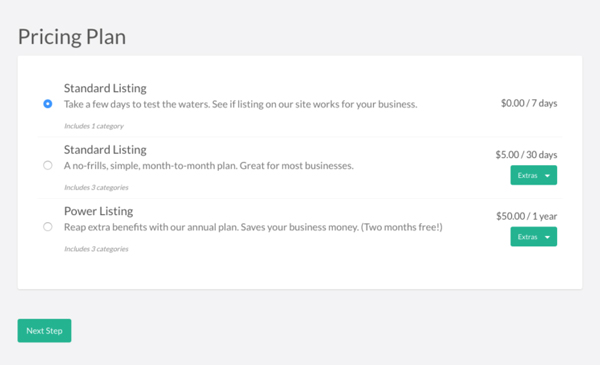 Setting Up Payment Plans Using Vantage
Payment plans or Listing plans allow you to offer your customers to post an ad for their business in return for a payment (or alternatively, you can offer free listing plans). You can have multiple listing plans on your website which allows the business owner to choose the one that is right for them.
Customer's View of the Pricing Plans on Offer
The Vantage AppTheme allows you the flexibility in offering customized pricing plans. You are able to be in complete control of the plans you offer your customers. You can offer your customers multiple plans, allowing them to choose the plan that best suits their budget and needs.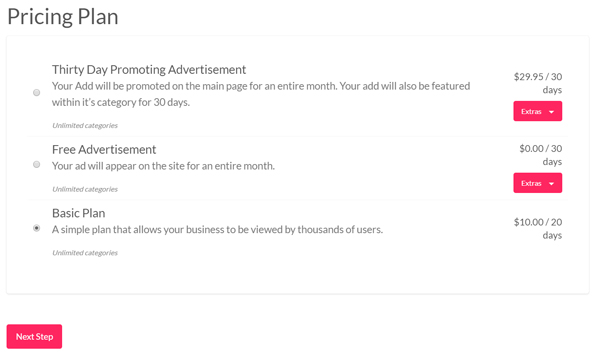 Creating a Pricing Plan
To create a pricing plan complete the following steps:
Once you have installed and activated the Vantage AppTheme, you will see a menu titled 'Payments'.
Click on the 'Payments' menu and then on 'Listing Plans'.
Click the 'Add New' button to create a listing plan.
This is where you will enter in all the details of your new listing plan.
In the given fields, enter in a title, description and price for your listing plan.
Choose if you want this pricing plan to recur from the drop down menu.
Enter in any include categories.
Set the duration of the listing. This will be how long the ad will be visible on the website.
Choose if you would like to include any featured addons.
(For more details on each field refer to the information below)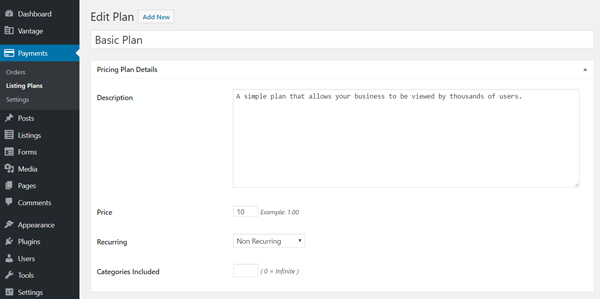 Title of Your Pricing Plan
This will be the name of your plan. Your customers will be able to see the name of the listing so ensure you are concise although informative on what your plan offers. For example, you may choose to titled you plan: Basic Plan or Premium Plan.
Description of Your Pricing Plan
In the description field is where you have the opportunity to explain what is included in your pricing plan. The description field also gives you the opportunity to 'sell' your plan to potential customers. Your description does not need to be extensive, although should give the customers and idea of what they are getting with the plan. For example, 'A simple plan that allows your business to be viewed by thousands of users'.
Pricing of Your Plan
The cost associated with your plan is entirely up to you. In this field enter in the cost you wish to charge your customers to use this plan. For example, a basic plan may have a $10.00 cost associated with it.
Categories Included Field
Starting with Vantage 1.2, users can choose more than one category for their business listing. This setting allows you to limit the number of categories a user can select when creating a listing. For example, entering "3" would allow the user to choose only three categories for their listing when paying with this pricing plan. Entering "0" allows unlimited categories.
Please note, if users choose a category with a category surcharge, the surcharge will be added to the total cost of their listing. Read more about 'Category Surcharges' here.
To find out how to add a surcharge to a category read our 'Surcharges for Listing in a Specific Category' documentation.
Listing Duration Period
This is where you choose how long an add will be visible for someone who chooses this plan. In the listing duration field enter in the number of days, months or years the ad will be visible for. Then select the word, days, months or years from the drop down menu.  For example, a basic plan may allow your customers ad to be visible for 20 days.
The Featured Addons Section
You can use this section to add more value to your plan. These addons will be automatically included with the plan if you select them. You can choose to include:
A Feature on Homepage Addon
and/or
A Feature on Category Addon
Select the 'included' box to add either of these to your listing plan. Checking a box means the featured option will be included as a part of this pricing plan. Leaving it unchecked means that featured is not included in the pricing plan and must be purchased separately.
Then choose the duration that their ad will feature on either the homepage or category. The duration can be any amount but must be the same or shorter than the listing duration. You may choose to only include featured options for executive plans and keep your basic plans simple.
Offering Featured as an Additional Addon (When it is Not Include in the Plan)
If you do not have featured listings enabled in the plan your are offering, then your customer will not get featured as part of the pricing plan and they will not have the option to pay for featured separately.
In the following example, I am offering a Basic plan where customer can not add an additional featured option:

If I now choose that I would like my customers to have the option to add featured to their ad I can enable this in the 'Payment Settings' under the 'Listings' tab.
Once enabled, a 'Basic Plan' that offers listing addons will look like the following example. A customer can choose the basic plan and then if they choose they can add on the option to have their ad featured on the homepage or on the category:

Enabling the Option to Include Featured Addons
You can enable featured addons in the 'Payments', 'Settings' menu.
Once you are in the 'Settings' menu, click on the 'Listings' tab.
You will see a section titled 'Listing Add-ons'.
This is where you can configure the add-ons you would like to offer as an additional payment on top of your pricing plans.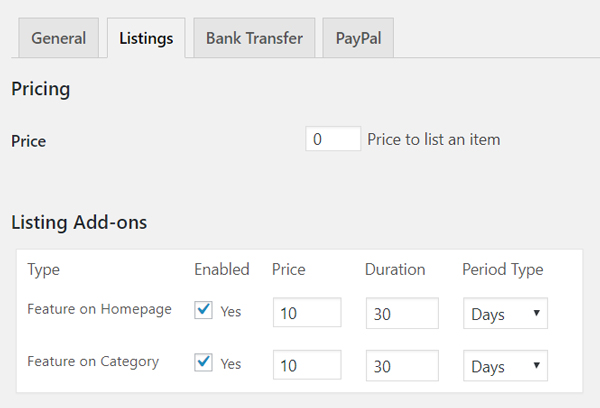 When Featured is Included in the Original Pricing Plan
If you have included a featured option in the pricing plan, these will be include in the cost of the plan. The additional featured options you have include in the plan will show up under 'Extras' although unlike the above example, the check boxes will already be ticked. This allows your customers to view the additional extras that are included in their package.
In the following example, in addition to an ad being visible for 30 days, the add will also be featured on the homepage and category. A customer who purchases this plan for $29.95 will get the extras for no additional charge.

Adding Featured After Purchasing a Basic Listing
Let's say your customer opted not to buy a featured listing. Or maybe the featured status expired on one of their existing listings. No problem! Any listing that is not featured can be upgraded, as long as you have featured enabled. In the following screenshot, you can see that a button is added to listings that are not featured. The listing owner only needs to click the "Upgrade Listing" button to upgrade their listing to a featured listing.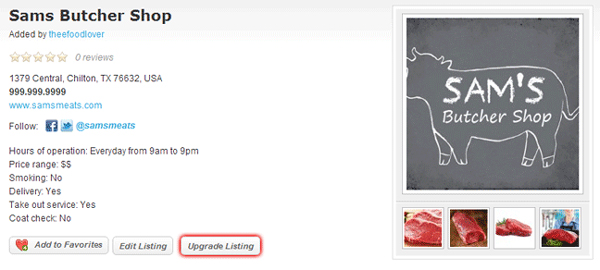 Other Ways of Offering Additions to Pricing Plans
The way you offer your pricing plans to your customers is completely up to you. We have included some ways you can offer plans to your customers below.
Offering a Free Listing with Paid Upgrades
Offer a free listing to your customers and then offer paid upgrades to feature on the homepage and the category. This allows you to gain listings on your website with the potential to earn money later on.
Offering Free Listings for Charity Organisations
Maybe you want to create a city directory that includes businesses and government and non-profit entities. You can create a free pricing plan for government and non-profit categories and a paid pricing plan for business categories.
Giving Your Customers a Taste of a Featured Listing
You want businesses to upgrade to featured on your site so why not give them a little taste of how featured works for them. Create a listing plan that includes featured for a short amount of time – let's say 15 days. Then, if they like the benefits of being featured, they can repurchase featured status after the 15 day try-out period.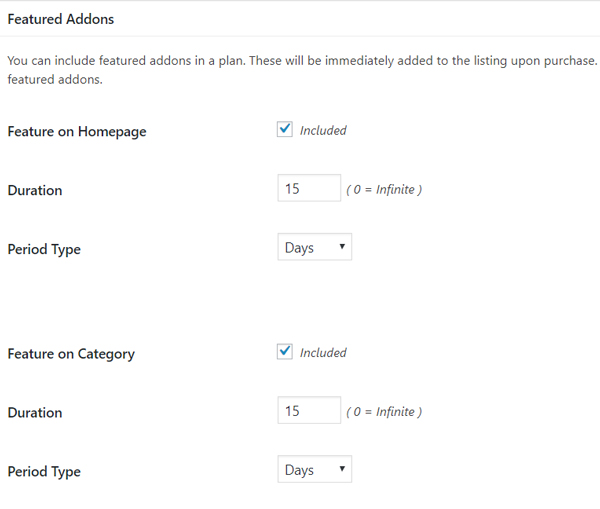 Like this tutorial? Subscribe and get the latest tutorials delivered straight to your inbox or feed reader.