If you are a ClassiPress user, you can follow this documentation to add a location map to your sites header. This is no ordinary header image though. This map will automatically display all the found listings on your site.
Visitors to your site can click on a blue location number. This will zoom them in closer to the exact location of the product/service being advertised. The visitor can then click on the title of the ad to view any additional details. This allows visitors to regionally browse ads on your ClassiPress site.

Using a Shortcode to Display a Listings Map
If you wish to show a listings map as the header image of your ClassiPress site you can follow the simple instructions below.
Please Note: The shortcode used in the instructions below can be used on any page to display a map that contains the locations of current advertisements. You may choose to create an individual page rather than use this map as your site's header image. 
Step 1) Locate the 'Front Page' of your site. This can be found by clicking on the 'Pages' menu within a WordPress dashboard.
Step 2) If you have a featured image set, click the Remove featured image button.
Step 3) Copy and paste the following shortcode into the Text Editor of your 'Front Page' (beneath any other text you have input):
[

classipress_listings_map

]
Step 4) Click on the Update button.
Step 5) Go to the front of your ClassiPress site and see your new header image. This map will update automatically to display the location of your listings.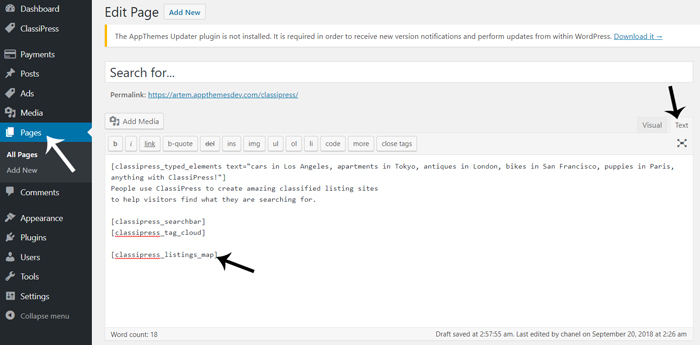 Example: Location Map with Advertisement
The screenshot below demonstrates how ads are highlighted on the map. Visitors can click on the red location highlight to view minimal details about an ad. If the visitor likes the sound of the ad, they can click on the title to be directed to the advertisement listing page. This feature allows visitors to visually browse the location of advertisements on your site.