All payment settings that relate to ClassiPress can be found under the Pricing menu.
Locating the Pricing Menu
Click on the ClassiPress Plugin.
Choose the Pricing menu.
You will now see two tabs. One titled General and one titled Memberships.

General Tab of the Pricing Settings
Ensure once you configure the settings within this tab that you Save Changes.
Charge for Listing
Mark this checkbox if you wish to charge for listings on your ClassiPress site.
Featured Price
In the featured price field is where you can enter numerals to represent how much extra you would like to charge for users to list their ads as Featured. This field should contain numerals only.
Clean Price Field
Marking this checkbox ensures that price only fields will contain numerals only. Leave this box unchecked if you wish to allow your users to type 'TBO' or other abbreviations.
Empty Prices
Marking this checkbox will display '0.00' as the price for an item that does not have a price.
Hide Decimals
Hiding decimals should be marked only when you do not wish to use decimals in terms of pricing. An example is for sites that trade in Yen.
Currency Symbol
The currency symbol should represent the currency you are using across your site.
Price Model
There are four options you can choose from. This option defines the pricing model for selling ads on your site. If you want to provide free and paid ads then select the "Price Per Category" option.
% of Sellers Ad Price
This section only applies to people who chose % of Sellers Ad Price as their Price Model.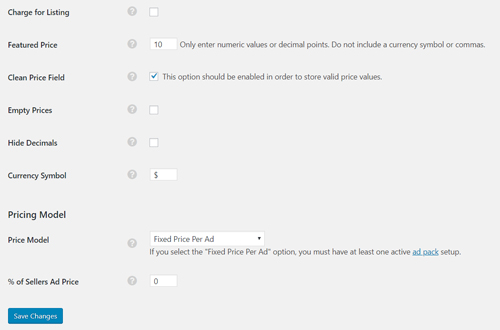 Memberships Tab of the Pricing Settings
Under the Memberships tab there are three different settings.
Enable Packs
This option activates Membership Packs and their respective discounts. Disabling this does not disable the membership system, but simply stops the discounts from activating during the posting process.
Reminders
Number of days you would like to send renewal reminders before their subscription expires. Numeric values only. This number will determine when reminder emails are sent along with website notifications.
Membership to Buy Ads
You can choose from the drop down menu. The option you choose here decides who can list an ad on your ClassiPress site.
Not Required – a membership isn't needed to list an ad.
Required for All – must have an active membership to list an ad.
Required by Category – limits users with memberships to list ads in certain categories