For the majority of websites, the admin will specify that a user must be logged in prior to posting an advertisement. Once you are logged in as a user you will then be able to post an ad. The Post an Ad button by default is located in the right hand corner of the homepage. This button is right next to the login for a user.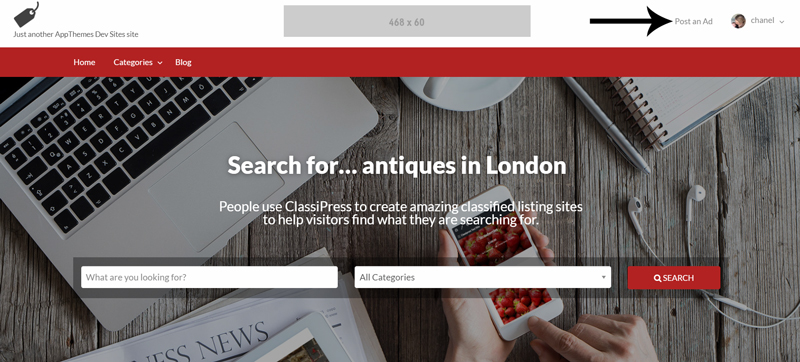 Posting an Add as a User
Step 1) Log in to the site as a user.
Step 2) Click on the Post an Ad button in the right hand corner of the home screen.
Step 3) There is generally 5 steps to creating an ad as a user. This includes choosing a category, adding details to the ad, previewing the ad, making a payment/checking out and then finally a thank you page.
Step 4) Choose a category that is suitable for your ad. Once you have chosen a category click Go.

Step 5) Once you click Go it will take you to a page with many fields where you can enter in all the details of your ad. These fields include: Title, Price, Street, City, State, Country, Postal Code, Tags, Description and Images (the option to upload images). As a user you will need to fill out these fields prior to moving on.
Step 6) If you would like for your ad to be Featured you can mark the checkbox. The amount of the featured listing will be added to the cost of the ad. Depending on the price structure set for the site, you may see a drop down box containing Ad Package Options, and a Coupon Code field which will allow you to use a discount coupon offered by the site.
Step 7) Choose which Ad Package is suitable for your ad. The ad packages on offer are specified by site admin.
Step 8) Click the Continue button once you have completed the Ad Details.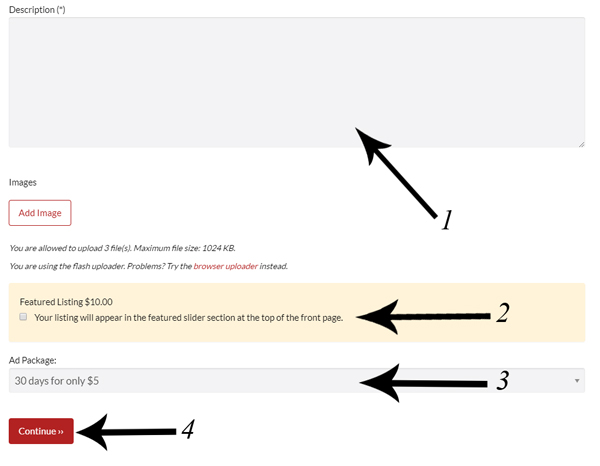 Step 9) Review your ad and click Continue.
Step 10) Checkout and make the payment for the ad. Click Continue.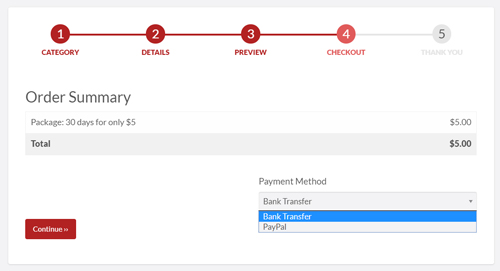 Step 11) Thank you page and view your live listing. You have now posted an ad as a user. Your ad may be pending until admin approves it.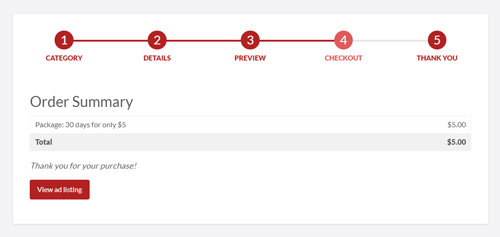 Viewing Your Ads as a User
You can view all your Listing details from the User Dashboard.
Click on your User Name in the right hand corner.
From the Drop Down Menu click on Listings.
You can now Edit your listings from this page. You can also Delete your listings from this page.
From the Listings Page in the User Dashboard you can:
Edit, delete and pause listings
Mark an ad as sold
See the date the ad was listed
See when the ad expires
See the total views of your ads
See which of your ads are live and which ads are awaiting payment