Some of our themes include payment gateway support where you can set up the Payment options for your site. Within this section includes a "Sandbox Mode" check box option, where you can run your site in test mode and test the PayPal payment process with a PayPal Sandbox account. This basically means that you can complete transactions just as a customer will do, but without using real money.
In order to use this option though, you need to set up a PayPal Sandbox account, so this tutorial explains how to do this. Presumably you have already configured your theme settings in all the payment related sections (pricing and gateway).
On the Payment Gateways screen, ensure you have enabled PayPal, and set the "paypal email" to your correct and real paypal account email, and also ensure you have checked the "sandbox mode" box.
Create a PayPal Sandbox account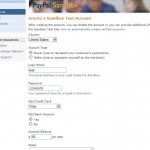 Sign up for your Paypal Sandbox account at http://developer.paypal.com.
Under "Test Accounts", select "create a preconfigured buyer or seller account"
Create your sandbox test account as account type "buyer", and complete all the relevant fields.
Once successfully created, you will receive the confirmation of this, and below is the information for your sandbox test account which you will use to log in with later.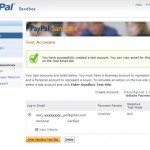 You can now use this while testing the ad/job posting process on your site.
Once you are satisfied that there are no issues with the posting/transaction process remember to uncheck the "Sandbox mode" box to allow live payments to be placed.
Like this tutorial? Subscribe and get the latest tutorials delivered straight to your inbox or feed reader.