You can add some customization to your Taskerr website by changing some of the appearance settings or select one of the 5 color schemes from WordPress>Appearance>Customize. More info on WordPress Appearance settings can be found in the WordPress Codex.
Appearance
From here you can customize your
Title and Tagline
Colors-Choose between 5 color schemes
Header image
Background image
Navigation-Taskerr comes with a menu that you can modify from Appearance>Menus
Static Front page
Widgets Main Sidebar
Widgets Top Advert
Widgets Bottom Advert
Widgets Central Area Home
Widgets Footer
Widgets Page
Widgets Blog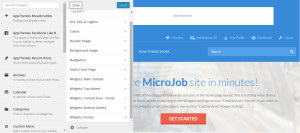 You can find more information about the Widgets here.