We would like to thank our valued users of ClassiPress 3.x. While some users continue to love the look of ClassiPress 3.x, others feel as though it's time for an update. If you are currently using ClassiPress 3.x and are now happy to update to the new look ClassiPress 4.x please review this documentation first.
From ClassiPress 3.x: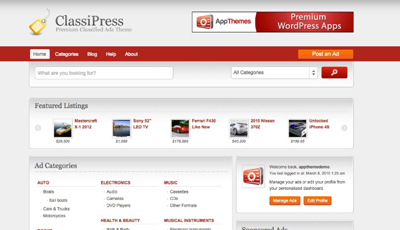 To ClassiPress 4.x: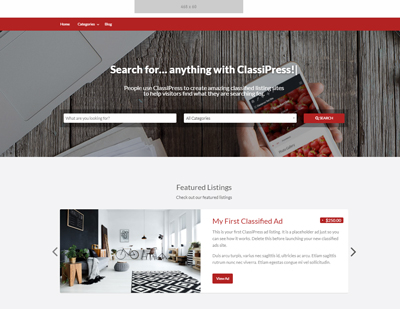 Consideration #1 – Home Page Banner
The new ClassiPress 4.x comes with a built in homepage banner. This banner is complete with typed text that authenticates a classified advertisement site. When you update from ClassiPress 3.x to ClassiPress 4.x you will need to create this page manually. This is a simple process that should take no more than a couple of minutes.
Step 1) Create a Page Titled: 'Search for…' (or similar).
Step 2) Copy and Paste the following shortcodes into the text editor of your page:
[classipress_typed_elements text="cars in Los Angeles, apartments in Tokyo, antiques in London, bikes in San Francisco, puppies in Paris, anything with ClassiPress!"]
People use ClassiPress to create amazing classified listing sites
to help visitors find what they are searching for.
 
[classipress_searchbar]
You can edit the "information within the quotations" to suit the style of your website. These will be the typed elements that are displayed on your homepage. The search bar shortcode allows your customers to search by a category or phrase.
Step 3) Make sure you Publish your page.
Step 4) In your WordPress dashboard, click on Appearance and then on Customize.
Step 5) Click on Homepage Settings.
Step 6) In the Homepage Dropdown choose your Search for… page.
Step 7) Click the Publish button. Your site will now have the modern feel of ClassiPress 4.x.
Example: Home Page Banner
Below is an example of a ClassiPress 4.x homepage banner. The shortcodes added to the 'Search for…' page create the typed text feature and the search bar. The title you give this page will be displayed exactly where the 'Search for…' text is below.

Consideration #2 – Banner and Thumbnail Images for Single Ad Listings
When you update to ClassiPress 4.x you may notice that when an ad is created, the author of the ad has the choice to decide which of their images will appear as the thumbnail for their ad, and which image will be the banner for their ad. This can be configured from the admin dashboard or from the front end of the site when someone is listing an ad.
Example: Setting Banner and Thumbnail Image
When you upload multiple images to an ad, you have the choice of how these images will be displayed.