The Payment Settings Menu of ClassiPress 4.x is where you can configure all settings related to payment. All new users of ClassiPress 4.x will need to review this documentation and ensure they have configured their payment settings.
Locating the Payment Settings
Click on the Payments menu.
Click on Settings.
You will see three tabs titled: General, Bank Transfer and PayPal.
General Payment Settings Tab (1)
In the general settings tab is where you can configure regional payment information, tax, decide which gateways you will use and enable a security option. Once you have configured these settings ensure you Save Changes.
Regional
Under the Regional section ensure you have selected the appropriate currency, currency identifier and currency position for your site.
Tax
The numeral entered in the tax field represents the percentage of tax that you wish to apply to purchases. By default, there is '0' tax applied.
Installed Gateways
Mark the checkbox next to which of the following you will be using on your site:
Bank Transfer
PayPal
Developer Gateway
You can choose to use just one gateway or multiple gateways.
Security
Mark the checkbox if you wish to allow users view their orders list in back-end, otherwise only editors and administrators can do that. By default this option is not enabled.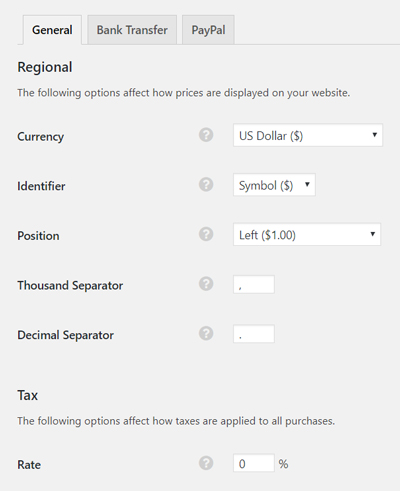 Bank Transfer Payment Settings Tab (2)
Under the Bank Transfer tab there is one large text field. In this field you can enter a message that will be displayed once a bank transfer payment is complete. This section is only for users that will be using Bank Transfer as one of their Payment Gateways.
PayPal Payment Settings Tab (3)
If you decide you will use PayPal as a payment gateway on your site you will need to configure all the necessary settings under this tab.
To use PayPal on your ClassiPress site you will need to:
Enter in your PayPal email address (this is where the money will be sent to)
Enable Payment Data Transfer (if needed for your website). You can find out more about PDT here.
Enable Instant Payment Notifications if you have recurring payments on your site. You can find out more information on setting up IPN here.